Lead times may vary based on current workload or current governmental restrictions.
Normal lead times are approximately 6-10 weeks for slide work and refinishing in BLACK NITRIDE.
Refinishing in FDE PVD may be longer than normal 6-10 week (slide and refinishing) lead times.
Slide milling 1911 for the Trijicon mount or RMRcc may fall outside of normal lead times.
Custom slide work or work requiring new programming will fall outside of normal lead times.
Slide milling for the RMRcc, the screws and seal plate provided by Trijicon must be included with the RMRcc optic if you want the optic mounted on the slide by ATEi.
Slide milling for optic install on Glock 17L, 24, 41, Sig P320 (full size), Beretta APX or other slides with a void where a plug and laser welded are needed are not subject to normal lead time due to additional processes involved and will incur an added cost for the additional services needed. Slide milling may not be offered for slides not already listed.
We do not offer slide milling for any of the HK P30 models at this time.
If you send a Lone Wolf AlphaWolf slide for milling, make sure it is NOT the Featureless Slide. The Featureless slide is not like the AlphaWolf Replacement Slide. See picture below for reference.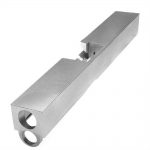 You want the AlphaWolf OEM Serration Slides (AW-Slide-OEM).
ATEi installs only Trijicon seal plates under a Trijicon RMR.
Slides altered by anyone other than ATEi may not be modified by ATEi. Please contact us for confirmation your modified slide can be machined by ATEi before sending it in.
Shipping costs are a separate charge and a phone call to us with your credit card information is needed.
We ship using UPS and an ADULT signature is required.
The customer is responsible for shipping costs to and from ATEi.
If you are purchasing an Accessory (such as batteries, sights, an Apex barrel or Trijicon seal plate), it is assumed that you will be sending in your slide or pistol for installation. COST FOR ACCESSORY ITEMS DOES NOT INCLUDE SHIPPING CHARGES. If you are ordering an Accessory as a stand alone item, call us to pay for shipping!
CANCELLED ORDERS ARE SUBJECT TO A 2% FEE FOR CREDIT CARD PROCESSING
Nickel Boron Refinishing is no longer available for Slides or Barrels.
Any changes to orders after being placed must be made by email to info@ateiguns.com.
ATEi does not sight in firearms.
Final adjustments of both iron sights and optics are the responsibility of the end user.